Last Updated: 12/28/16
Cancer Imaging Program History
The National Cancer Institute (NCI) established the Diagnostic Imaging Program (DIP) in October 1996 with David Bragg, M.D., as the first acting director and two full-time staff members. Daniel C. Sullivan, M.D., became the first full-time director in September 1997. The name of the program has changed twice during this time, from the Diagnostic Imaging Program to the Biomedical Imaging Program in 2001 and to the Cancer Imaging Program in 2003, to more clearly reflect the role of the program, both to NCI and to the public. James Tatum, MD, was appointed to direct the program in 2007, followed by Paula Jacobs, Ph.D., in 2011. The staff members and administered grants are divided among four branches: the Clinical Trials Branch, the Molecular Imaging Branch, the Image-Guided Intervention Branch, and the Imaging Technology Development Branch.
History and funding milestones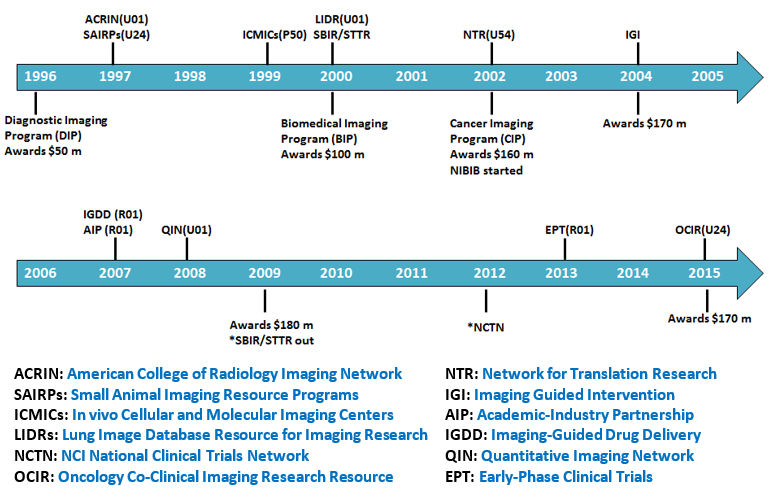 Important Funding Initiatives over the years include:
Establishing an imaging focused cooperative trial group, the American College of Radiology Imaging Network, ACRIN, now merged with the Eastern Cooperative Oncology Group to form ECOG-ACRIN, one of the groups in the National Clinical Trials Network. The ECOG-ACRIN Cancer Research Group is a multidisciplinary, membership-based scientific organization that designs and conducts biomarker-driven cancer research involving adults who have or are at risk of developing cancer. The Group is dedicated to achieve research advances in all aspects of cancer care and thereby reduce the burden of cancer and improve the quality of life and survival in patients with cancer.
Establishing several initiatives to encourage research in under-funded areas:

Small Animal Imaging Resource Program (SAIRPs)
In vivo Cellular And Molecular Imaging Centers (ICMICs)
Lung Image Database Resource for Imaging Research (LIDC)
Early Phase Clinical Trials in imaging and imaging guided interventions
Academic-Industrial Partnerships
Image guided drug delivery
Oncology co-clinical imaging research resources

Establishing a variety of cooperative research networks

Network for Translational Research (NTR)
Network for Translation Research Optical Imaging (NTRO!)
Quantitative Imaging Network for evaluation of therapy responses (QIN)
Recent Funding Initiatives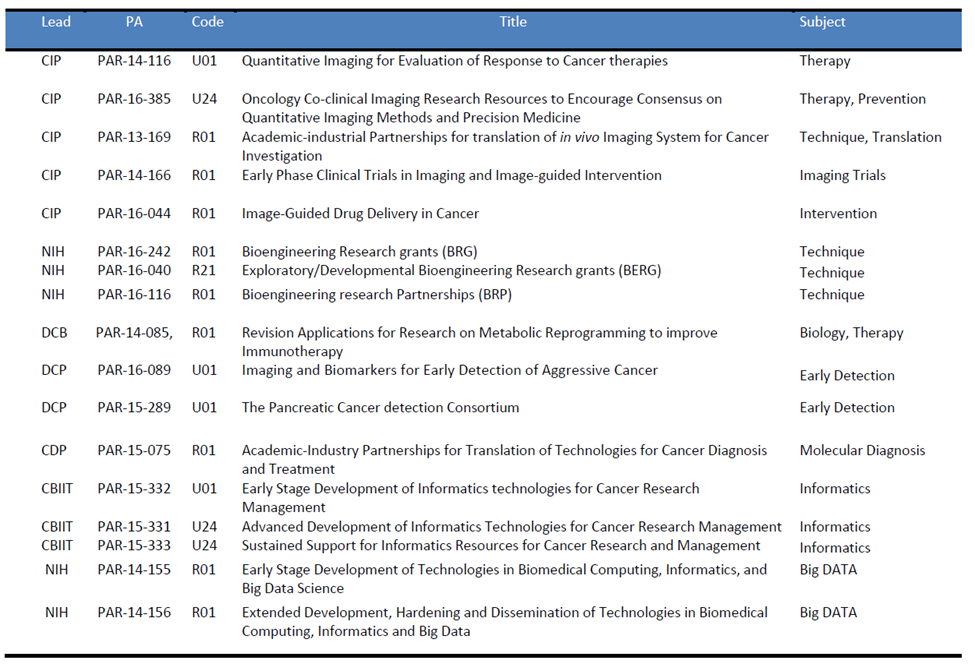 In 2015, the total amount of the grants administered by CIP was $170 million, the majority of them in investigator-initiated R01 applications, but virtually all mechanisms were represented, as shown below.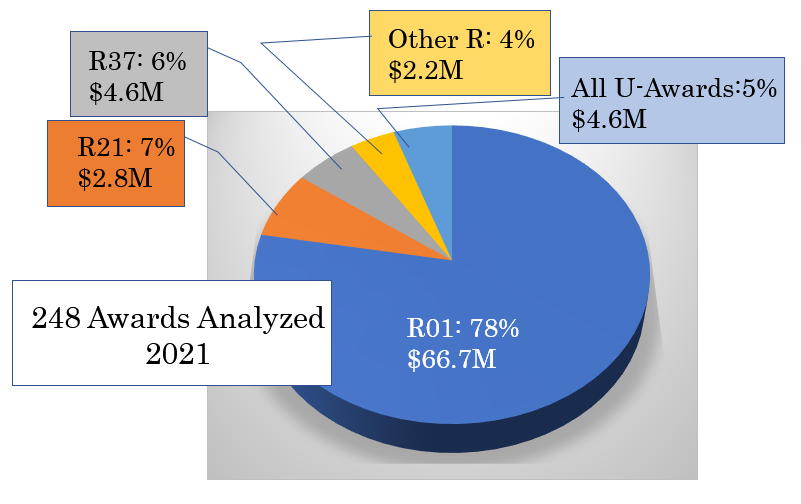 The total amount of grant money administered by the CIP for disease 1research in various organs is depicted graphically, below.