Last Updated: 11/08/16
About the Associate Director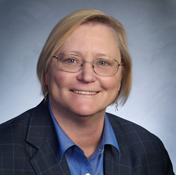 Paula M. Jacobs, PhD
Associate Director
Paula M. Jacobs, PhD, joined NCI after 30 years in the pharmaceutical and medical device industries, where she was a key developer of ultrasmall superparamagnetic iron oxide drugs as magnetic resonance imaging agents and iron replacement therapeutics. She became Deputy Associate Director of DCTD responsible for CIP in 2009, Acting Associate Director in 2011, and named Associate Director in 2012. Her efforts for NCI have been focused on lowering the scientific, logistical, and regulatory barriers to investigational use of positron emission tomography radiopharmaceuticals for therapeutic drug development by facilitating access to Investigational New Drug (IND) filings and by overseeing research to develop labeled drugs for clinical and preclinical use, particularly for optical imaging agents used to assist surgeons to make complete resections. Another effort is focused on wide-ranging aspects of standardization and quantitative imaging techniques, and a third focus is on genome-imaging correlations. Dr. Jacobs serves on three NCI Experimental Therapeutics (NExT) committees to review and manage the projects chosen for development. She oversees a radiochemistry laboratory and radiopharmacy at the Frederick National Laboratory for Cancer Research that provides preclinical and early clinical radiopharmaceuticals in support of therapeutic drug development.
Dr. Jacobs earned her undergraduate degree in chemistry at the Massachusetts Institute of Technology and graduate degrees at Tufts University and Northeastern University. Her postdoctoral training was at Northeastern University, the Massachusetts Institute of Technology, and Peter Bent Brigham Hospital/Harvard Medical School.
Her industrial experience began at Clinical Assays, a division of Baxter Travenol that manufactured in vitro radioimmunoassays, where she was responsible for process improvements in radioactive tracer synthesis, technical product maintenance, product and process improvements, and manufacturing of all reagents used in the company's products. At Seragen, a small biotechnology firm, she was General Manager, with profit and loss responsibility for a division that developed, manufactured, and marketed prostaglandin, leukotriene, and small protein immunoassays. Subsequently she joined Advanced Magnetics as Vice President, Development, to help chart a new course for this small biomedical products company. She was responsible for the development of iron oxide magnetic contrast agents from laboratory synthesis through IND submissions, including design of pharmacology, toxicology, and clinical studies. She served as international liaison for technology transfer to licensees, worked with independent physicians in the United States and abroad to develop physician IND trials in magnetic resonance imaging, and collaborated with academic researchers in a variety of preclinical investigations.
Dr. Jacobs has published papers in the areas of organic chemistry, inorganic chemistry, magnetic resonance imaging, positron emission tomography, neuro-oncology, and nephrology.